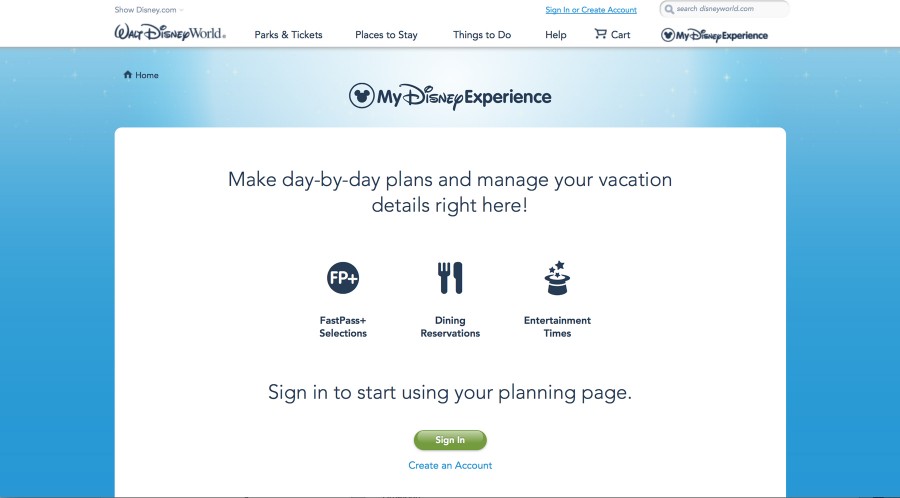 In the summer of 2013, the Walt Disney World Resort in Florida began testing a brand new program called My Magic Plus (My Magic+), an almost $2-billion technology that has been in the works for quite some time.  The goal of this program is to allow resort guests to have a completely personalized experience during their Disney vacations by creating customized itineraries and plans for their trips. Initially, a small percentage of visitors staying at select Disney resorts were able to try out the new system.  Over the next several months, however, Disney worked out many of the system's early kinks and in December 2013 launched the program resort-wide.  My Magic+ is now in full swing throughout Disney World and Disney continues to improve and expand upon the technology every day.
My Magic+ is made up of a few different components – My Disney Experience, an online planning page as well as an app you can download to your smartphone, MagicBands, a bracelet equipped with RFID (radio frequency identification) technology, and the new FastPass+ system that replaces the traditional paper FastPass system.  Let's look at what each of these is all about, shall we?
What is My Disney Experience?
Your participation in My Magic+ begins by creating your personal My Disney Experience account. This can be done by visiting the My Disney Experience page on the Disney World site.  In this post I show you exactly how to do that.  Your My Disney Experience account is the launch pad from which all of your vacation planning begins.  Before your trip, the online planning page is where you can customize your MagicBands, link your resort reservations and countdown to your arrival date, make dining and Fastpass+ reservations and manage all of the details of your trip.  Then, you can continue using the system throughout your vacation from the My Disney Experience mobile app that you download to your smartphone.  The app allows you to make and modify existing reservations, check park hours and attraction wait times, confirm daily showtimes and parade times, and find your favorite Disney characters.  All Disney World theme parks and resort hotels now offer free wifi which helps facilitate the use of the system.  The system is not limited to guests staying at a Disney hotel – anyone visiting the Walt Disney World Resort may create a My Disney Experience account and use the app.
What are MagicBands?
Your MagicBand, a revolutionary, technologically-savvy bracelet that serves as your key to Disney World.  The band itself has been internally fitted with an RFID chip that carries with it all of your vacation information.  While on Disney property you use your MagicBand to unlock your resort room door, to enter the theme parks, to access your dining plan credits, to utilize the FastPass+ system, to use Disney's PhotoPass, and to make purchases at shops and restaurants.  No more juggling a stack of park tickets at the FastPass machines or digging through your day pack for your wallet or room key – a touch of your wrist is all it takes.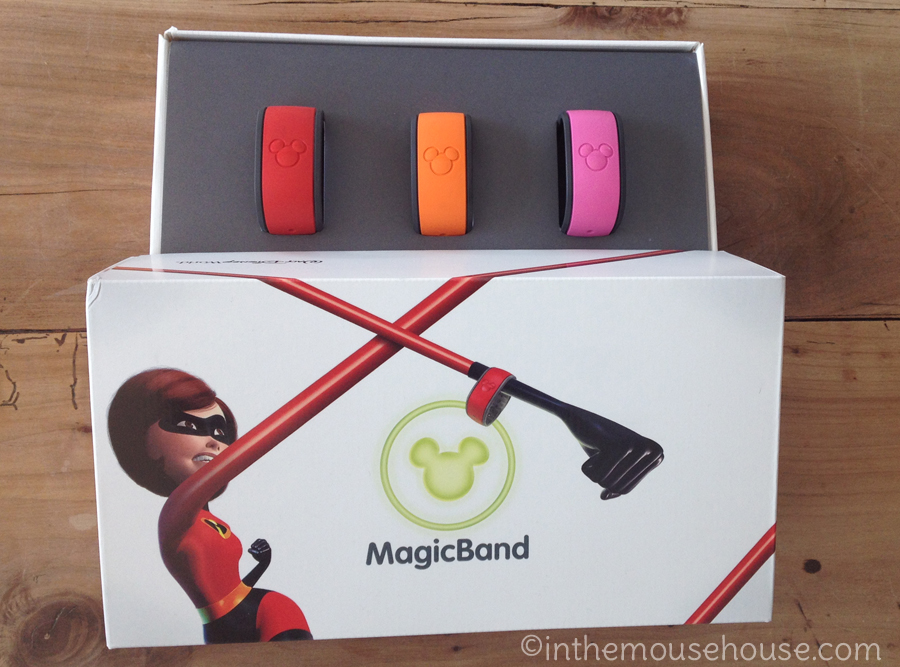 MagicBands can be customized with a color of your choice (red, orange, yellow, green, blue, pink and gray are the available colors) and imprinted on the inside with your name (nicknames are fine!).  The bands are also one-size-fits-all allowing you to peel the smaller, kid-sized bracelet out from within the larger one which is pretty neat.  If you happen to lose a MagicBand during your vacation, a trip to Guest Services in any theme park or your resort concierge will be able to replace it for you.  Your replacement band will be the standard gray color and won't have your name, but it will be linked up to your profile and you will be able to go right along with your vacation as planned.  Finally, MagicBands are completely waterproof, allowing you to wear it throughout your Disney vacation even while swimming.  In another post I've created a step-by-step guide to customizing your MagicBands.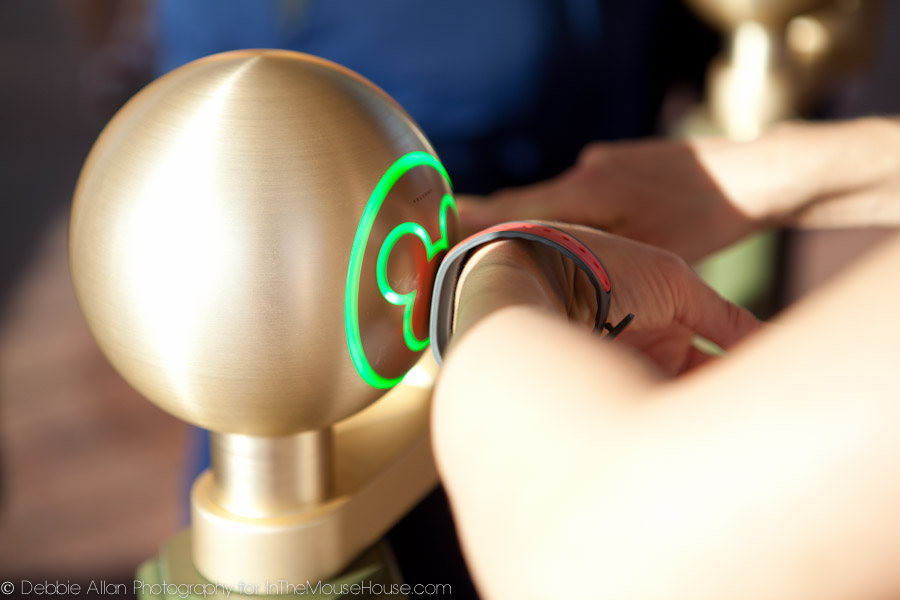 The coolest thing about the MagicBands is the way they serve to personalize the theme park experience for guests.  When entering the park in the morning a Cast Member says, "Happy Birthday, Gina! Have a magical day!" because my profile information appeared when I touched my band to the turnstile's reader.  Upon walking through the FastPass+ entrance to an attraction a Cast Member says, "Have fun, Gina!" because my profile information appeared when I touched my band to the queue's reader.  There has been some criticism about this technology as being a bit too, "Big Brother," but I think it's pretty fantastic.
How Does FastPass+ Work?
Over the past several months Disney has been working to phase out traditional paper FastPasses and move everything over to the new system.  With FastPass+, guests staying at a Disney resort are able to make up to 3 FastPass+ reservations per park/per day of their trip up to 60-days prior to their arrival.  Off-site guests who purchase MagicBands may make FP+ reservations up to 30-days prior to their arrival. FastPass+ reservations can be made on your My Disney Experience online planning page or from your My Disney Experience app once your reservation and ticket information is linked to your personal profile.  In another post I show you exactly how to make your FastPass+ reservations online.
It is my understanding that after you've used these 3 initial FP+ reservations, you should be able to visit one of the FastPass+ kiosks in the park and book 3 more (and 3 more after those have been used, etc.).  If you are planning to park-hop, you can make FastPass+ reservations for one park only, however, once your first 3 FastPass+ have been used, you can make additional reservations (3 at a time) at one of the kiosks in the theme park to which you hop next. For example, you may make 3 FastPass+ reservations for the Magic Kingdom via your My Disney Experience account, use those, and then book 3 more at a kiosk upon arriving at Epcot where you decided to hop for the afternoon and evening.  Update 3/30/14: During my recent visit to Walt Disney World, none of the cast members I asked knew that making any more than 3 FastPass+ reservations a day was possible.  I myself did not have the opportunity to try to make more than 3 during my time at Disney World, but I will be sure to try again on my upcoming trip.  Until then, I suggest making your FP+ reservations for the busier afternoon or evening hours and arriving at rope drop to experience headlining attractions when the park is less crowded using the stand-by line.
In any case, I am really hoping that it folks are indeed able to utilize the system this way in the near future. My initial complaint about FastPass+ was the way it limited the number of FastPasses you were permitted to obtain each day.  I am a type-a touring-plan kind of gal.  I like to maximize my time in the parks and the number of attractions I get to experience and I like to help my clients do the same.  I'm so happy to know that obtaining additional FastPasses is an option after using the first 3.
For guests who are not staying on Disney property, the system works a bit differently.  Off-site guests are not eligible for FastPass+ in advance of their arrival at the parks, however, once through the park gates these guests may use the park's many kiosks to reserve their 3 FastPasses as well.  Cast Members are on hand at the kiosks to help guests with this process as there is a bit of a learning curve for everyone.
How Much Does This Cost?
Access to My Disney Experience and all its benefits is free of charge to visitors staying in a Disney resort.  For off-site guests, the bands are available for purchase.  There are, of course, all sorts of ways that you can spend money using it – this is Disney we're talking about!  All of the shops throughout the parks and resorts offer a variety of charms that you can purchase to further personalize your MagicBands.  Additionally, putting charging privileges on your band, while making all transactions go much more smoothly eliminating the extra step of taking out your wallet, does make it pretty darn easy to spend money.  You like that t-shirt?  Tap your band and it's yours.  Feel like ice cream?  All it takes is a tap of your band.  Every snack kiosk, restaurant and store on Disney property is equipped with band readers.  So yes, a bit more will-power is involved here.  Set your budget before your trip and stick to it.  If you opt to add the ability to use your band for purchases you will create a 4-digit code to use punch in each time you pay for something.  Finally, you don't have link a credit card to your MagicBand if you don't want to.  Conventional payment methods are always acceptable at all Disney establishments.
What if I Don't Have Internet Access or a Smartphone?
Disney has set it up so that everyone can use My Magic+ regardless of their access to the internet or ability to download the app to a smartphone.  First off, your resort concierge can make FastPass+ reservations for your entire visit when you arrive.  You can also call Disney Internet Help at 407-939-7765 and press option #3 for help with your My Disney Experience account.  Cast Members at this number are available to help you make your FastPass+ reservations, though you would have to first create your My Disney Experience account in order for them to do so.  And remember, there are all sorts of public places these days where you can get access to the internet.  Finally, as mentioned above, each of the Disney theme parks has FastPass+ kiosks in several locations to enable you to make new and modify existing FastPass+ reservations throughout your stay.
In Summary…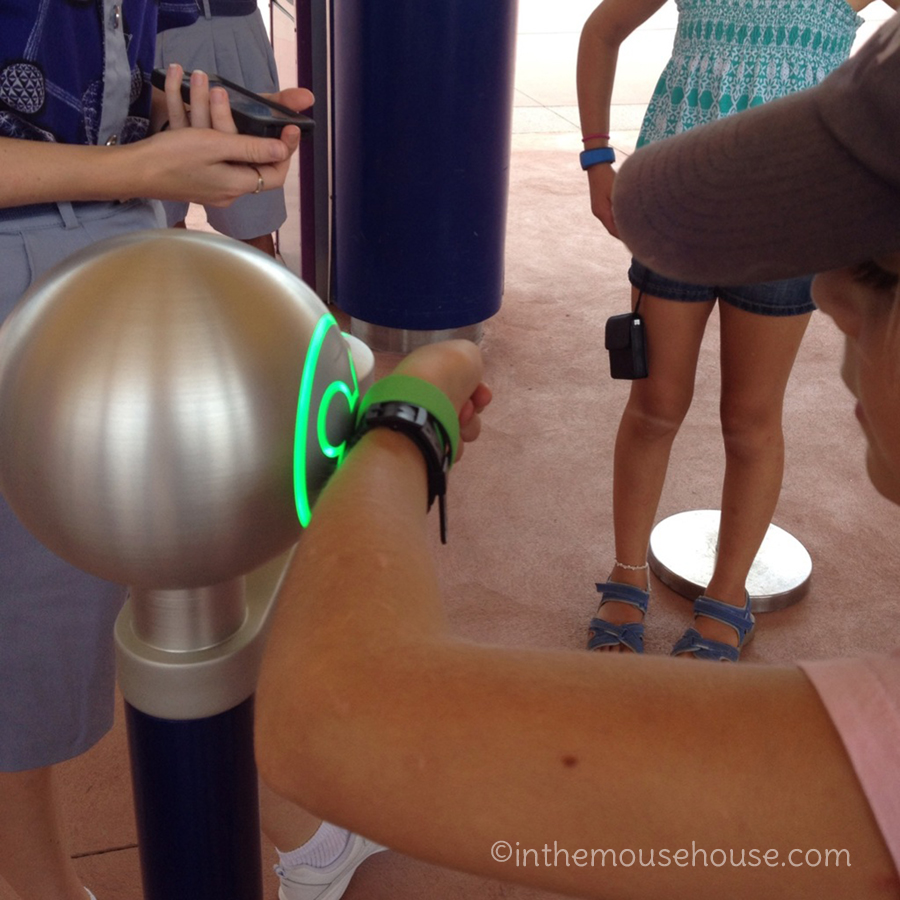 Overall, I think Disney's My Magic+ program is going along just swimmingly.  Now that the trial period has passed and Disney's own Cast Members are getting the hang of it, I see things running much more smoothly than they were initially.  I love the ease of the bands and the way it frees me up in the parks.  I love not having to carry cash (or my whole wallet, for that matter), feed a stack of park tickets into the FastPass machines or dig for my room key at the end of a long day when my kids are tired.  My kids love the bands, too, competing with one another over who gets to "pay" for a meal or souvenir or open the door to the room.  I've had questions about the bands' comfort and frankly, I don't think you even notice it's on.  My girls insist on leaving theirs on even when they sleep!  So other than having to fight the urge to tap my MagicBand for that Dooney and Bourke bag I've been eyeing, I give My Magic+ a resounding thumbs-up!
Ready to get started?  Let's go ahead and set-up your My Disney Experience account!
Have you had the opportunity to try out My Disney Experience?  Have you visited Disney World using MagicBands?  I'd love to hear how it went for you.  Feel free to share your experiences in the comments below!