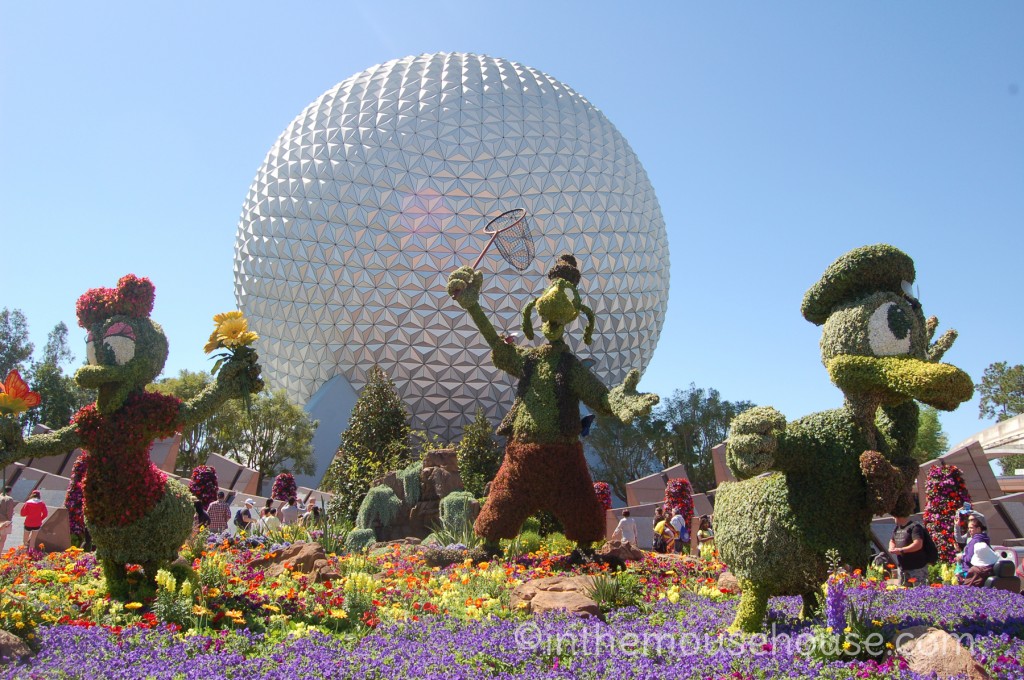 Welcome to those of you joining me from Two Moms and a Mouse and those of you just hopping aboard. I am the final stop on our Magical Blogorail.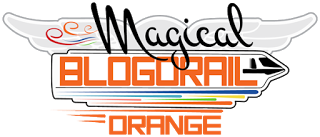 Spring in Epcot means one thing–the stunning International Flower and Garden Festival that blooms each year from early March through mid-May with gorgeous topiaries, spectacular landscaping, educational programming, and perhaps best of all, delicious food!  After a successful debut at last year's festival, 11 Outdoor Kitchens have popped up throughout the World Showcase featuring a spring-inspired menu of farm-fresh fare and international flavors.  I had the opportunity to tour the festival a few weeks ago beneath a bluebird sky and warm sunshine.  Throughout the course of a relaxing afternoon I was able to sample several sweet and savory small plates offered this year, all of which are very reasonably priced at about $4 – $7 each. Here are a few delectable highlights!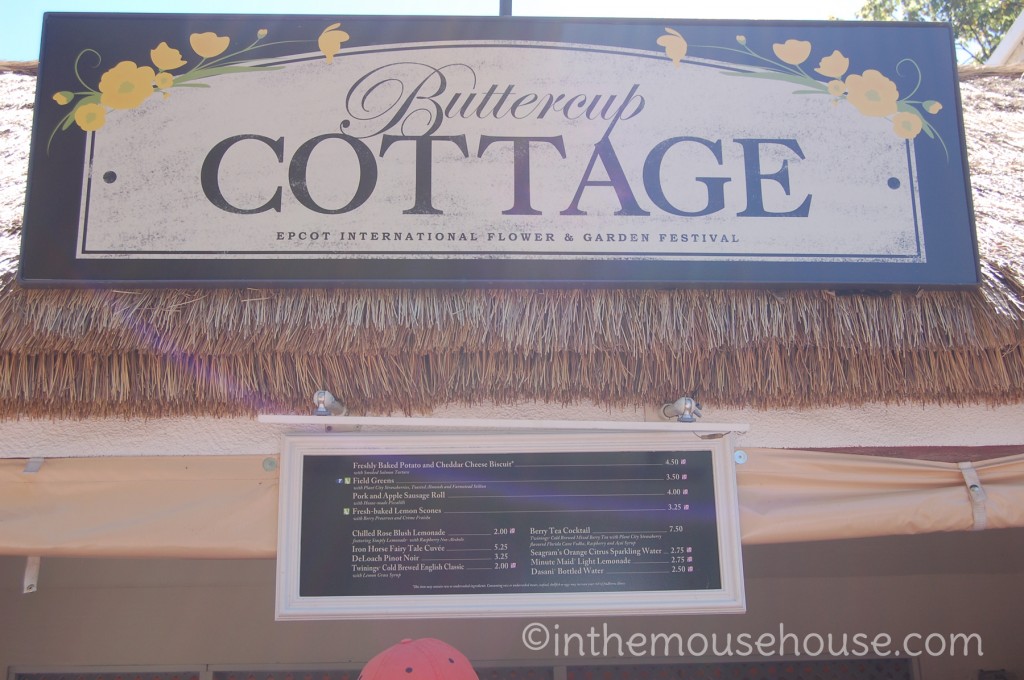 My feast began in the United Kingdom Pavilion where Buttercup Cottage was serving up a scrumptious sampling of teatime treats.  A lovely, fresh salad of greens and tangy stilton, a traditional sausage roll made with buttery, flaky pastry and a pair of tender lemon scones went perfectly with iced English tea sweetened with lemongrass syrup.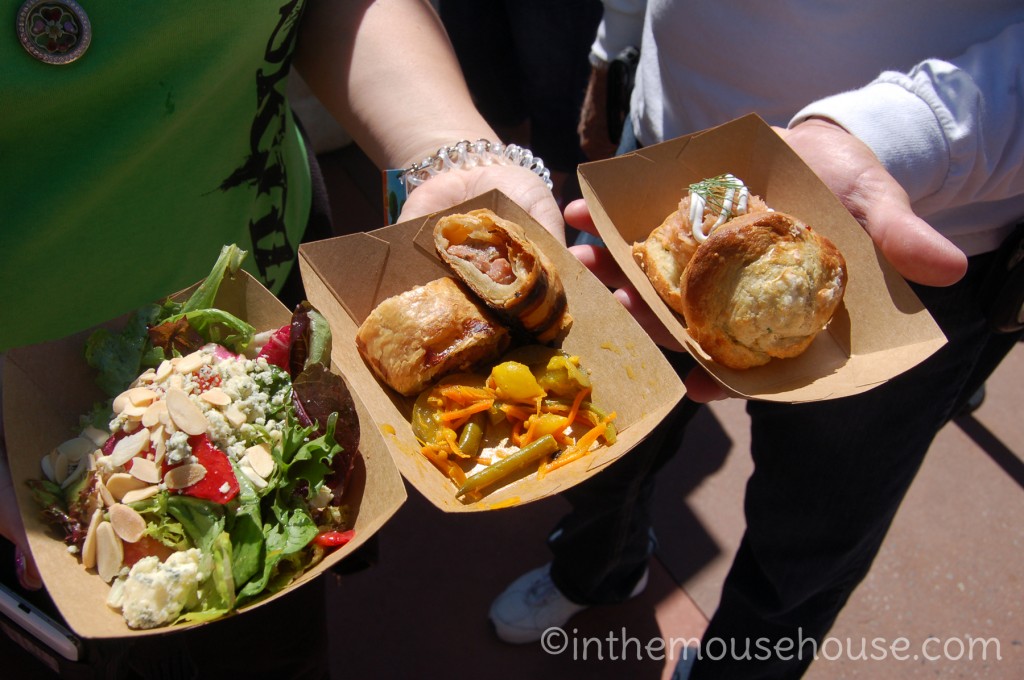 It was difficult to resist trying each of the times on the Buttercup Cottage menu which included:
Freshly Baked Potato and Cheddar Cheese Biscuit with Smoked Salmon Tartare
Field Greens with Plant City Strawberries, Toasted Almonds, and Farmstead Stilton
Pork and Apple Sausage Roll with House-Made Piccalilli
Freshly Baked Lemon Scones with Berry Preserves and Crème FraÎche
Moving along to France I was very tempted as I passed by Fleur de Lys and spotted the delicious La Vie en Rose frozen slush made with Grey Goose Orange Vodka, St. Germain Liquor, and White and Red Cranberry Juice.  As it was still fairly early in the day I did not partake in one of these, but they looked wonderful!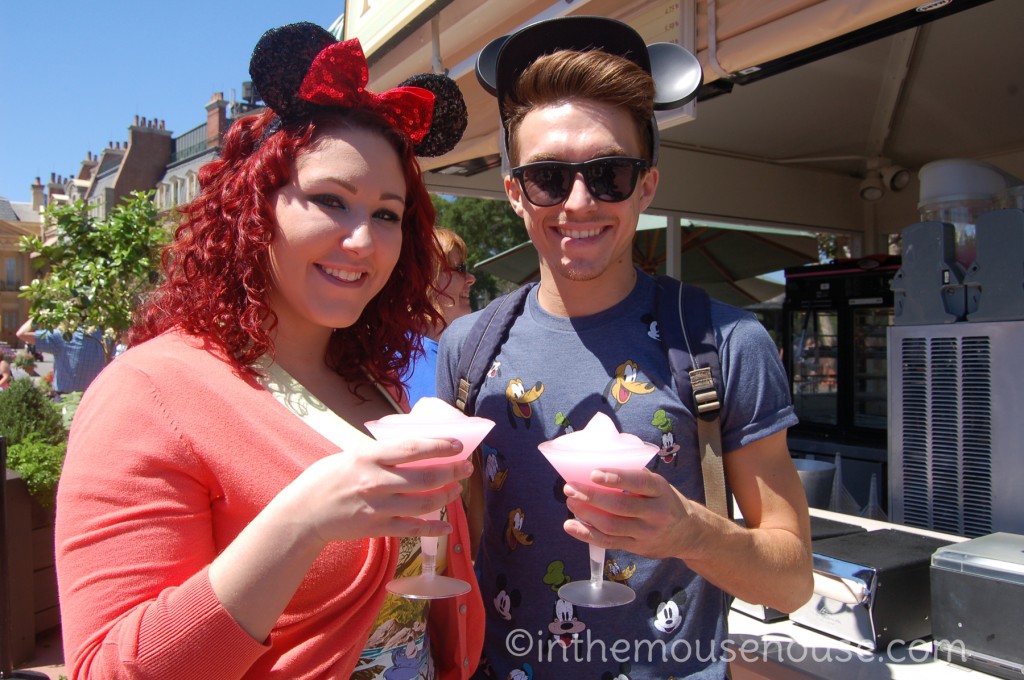 The Japan Pavilion is my middle is my middle daughter's favorite for the fabulous department store and I was on my way there to do some birthday shopping for my girls.  As I approached the pavilion I admired the colorful plates of sushi and Frushi–or fruit sushi–in guests' hands as they left Hanami. The menu at this kiosk included the following and the Frushi seemed to be a favorite among the younger set!
Frushi – Fresh pineapple, strawberries and melon, rolled with coconut rice, topped with raspberry sauce, sprinkled with toasted coconut and served with whipped cream on the side
Temaki hand roll – Sliced Panko fried chicken, curry sauce, rice and pickled julienne carrots wrapped with Nori
Hanami sushi – A flavorful combination of salmon, scallop and beef-topped rice balls served atop a shiso violet sauce (TRYit! Selection)
Japanese puffed rice cakes with green tea whipped cream and azuki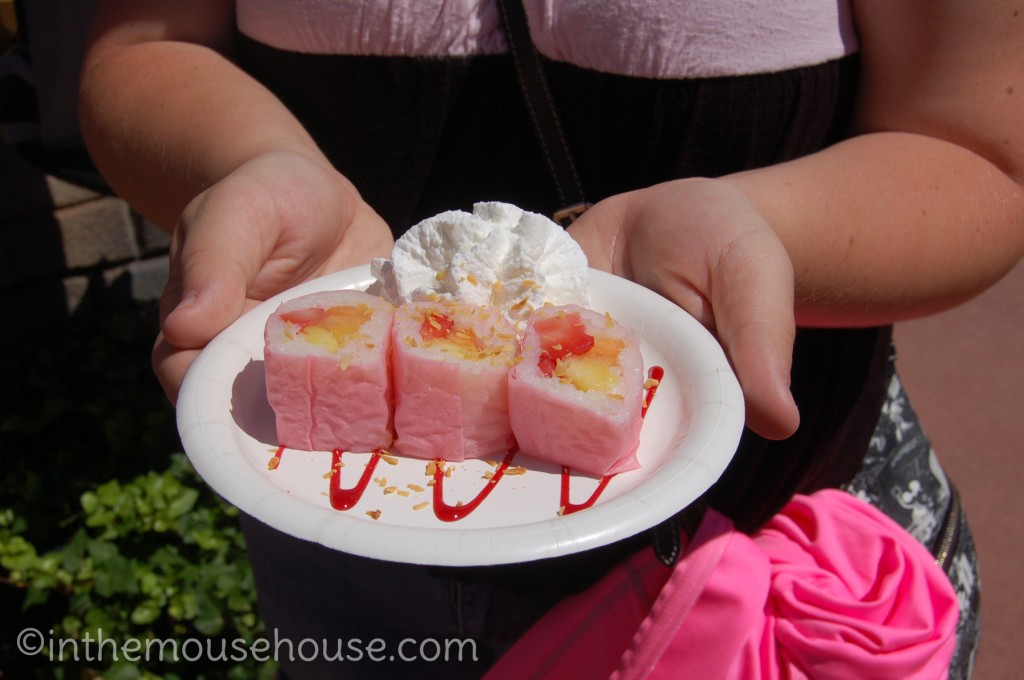 Shopping finished and appetite primed, I headed toward the mouthwatering, smoky smell of barbecue near the American Adventure.  This is the pavilion where guests tend to head for light, sugary funnel cakes and Disney's infamously enormous turkey legs, but today there was an even stronger draw–The Smokehouse.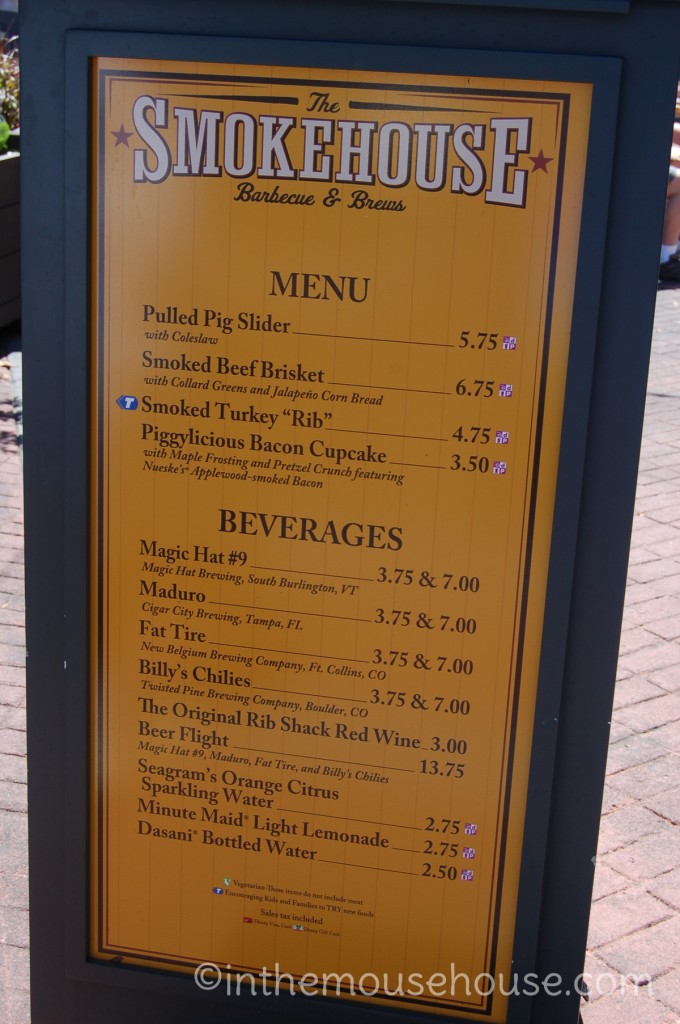 I am a huge fan of pulled pork and am known to fire up 6 or 7 pounds of Boston Butt in my crockpot on any given weekend in winter or summer, but true barbecued pork, the kind that smokes over wood coals for hours and hours tended to lovingly with a spicy, vinegar-y mop is out of my league.  Luckily there are folks like the chefs at The Smokehouse to make it for me and their Pulled Pig Slider with slaw was outstanding. I'm just sorry I didn't have room for the Piggylicious Bacon Cupcake afterward. Fortunately I'll be back once more before the festival ends on May 18th, so I think I know what I'll be trying then!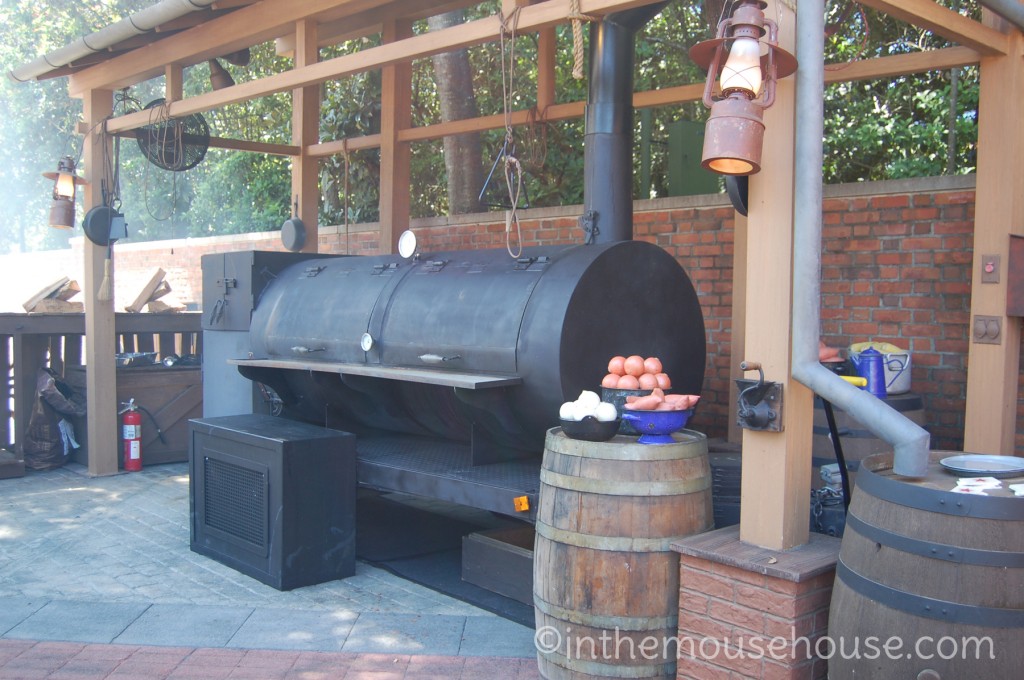 Polishing off my pig, I headed onward and spotted this bright spot in my travels where I correctly assumed some local specialties were being featured, including some very nice wines and craft beers from various locales around the Sunshine State.
Stuffed as I was from my snack at The Smokehouse, I didn't partake in what looked like some delicious, farmers' market-style fare like this: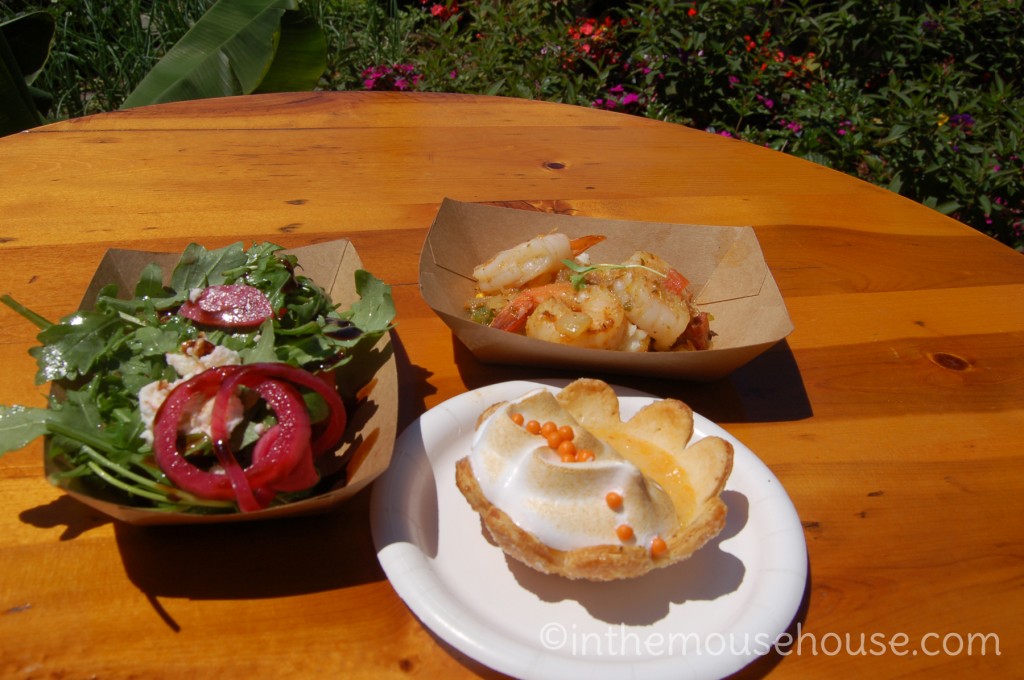 The kitchen here was home to an inventive menu highlighting fresh, Florida produce which included:
Watermelon salad with pickled onions, BW Farm baby arugula, feta cheese and balsamic reduction
Shrimp and stone ground grits with andouille sausage, sweet corn, tomatoes and cilantro
Florida kumquat pie
Finally, no blog about food at Disney would be complete without at least one mention of Disney's quintessential snack item–the Dole Whip–and the kiosks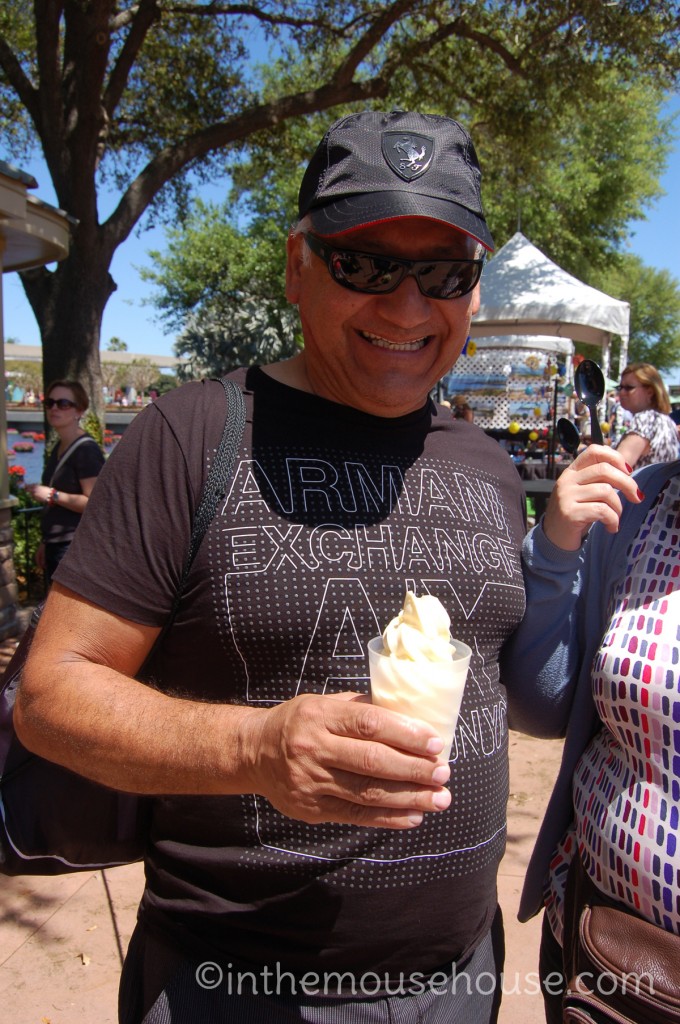 at the Flower and Garden Festival certainly didn't disappoint Dole Whip lovers this year!  At Pineapple Promenade right at the entrance to the World Showcase, aficionados of the frozen delight were in for a treat where the menu offered several twists on this Disney favorite including:
Traditional Dole Whip
Dole Whip with Myer's Dark Rum
Dole Whip with Parrot Bay Coconut Rum
Sweet Potato Cinnamon Waffle with Dole Whip
To add insult to injury after the Piggylicious Bacon Cupcake I'm planning on next weekend, I think that a Dole Whip with a rum floater is going to be vying for my attention as well.  Stay tuned!
Many thanks to all of the kind guests who allowed me to inspect and photograph some of their delicious snacks.  There was no way that I could have possibly eaten everything that I would have liked to during my afternoon visiting Epcot's Outdoor Kitchens.  I enjoyed meeting and speaking with all of these lovely folks!
Thank you for joining Magical Blogorail Orange this month. We will be back on May 22nd with an all new theme. Keep checking in with our blogs in between loops to keep up to date with our Disney news, photos and stories. If you are looking for more Disney magic, you can make your way over to The Magical Blogorail website to see all our members and their blogs, as well as all our previous loops.
Here is the map of our Magical Blogorail should you happen to have to make a stop along the way and want to reboard:
1st Stop ~ Capturing Magical Memories
2nd Stop ~ I Am a Mommy Nerd
3rd Stop ~ Disney with Babies, Toddlers, & Preschoolers
4th Stop ~ Two Moms and A Mouse
Final Stop ~ In the Mouse House